Ouail Al Maghraoui 
joined SystemX in 2016 to work on a thesis dedicated to the modelling of the traveller experience for the design of urban mobility. He revisits his doctorate that was done within the Anthropolis chair supported by SystemX and CentraleSupélec
What was the topic of your PhD thesis?
My thesis topic focused on the design of urban mobility systems. The partners of the Anthropolis chair, in which I did my three-year thesis, needed support to help them better design new mobility solutions. It is in this context that I intervened by realizing a model of the traveller experience that should enable them to better diagnose how existing solutions today are a source of dissatisfaction for travellers. I have adopted a human-centred approach to design a typology of problems that users can potentially encounter in their everyday mobility.
What do you remember from your doctorate?
My experience at SystemX has given me a lot on many levels. First intellectually, thanks to the great diversity of experts present in the institute who taught me a lot. Then at a human level, because I had the chance to work with a very nice team with whom I experienced unforgettable moments.
Can you tell us your favourite memory from your time with SystemX?
It was the 2017 edition of Future@SystemX where I had co-hosted a booth with the Anthropolis Chair team. This day was very rewarding. We met people from all walks of life who shared their stories regarding mobility experiences. The results of this day, for us, were more than satisfactory
What are your plans for the future?
During my thesis, I discovered the upstream phases of the construction of a transport innovation project. Now, I aspire to observe what is happening at the other end of the road, in the deployment of new urban mobility solutions. I intend to move towards the consulting professions so to be able to reach out to a greater variety of projects in the transport sector.
Read more about Ouail Al Maghraoui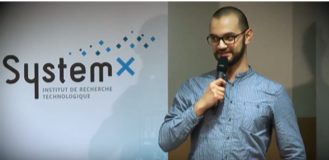 Name of the PhD thesis: Designing urban mobility: Modelling the traveller experience
Establishment: Laboratoire Génie Industriel – CentraleSupélec – University of Paris Saclay
R&D project: Anthropolis chair
Qualification obtained before the doctorate: Master of Research in Engineering Design at CentraleSupélec