As part of its partnership with Institut Mines-Télécom (IMT), SystemX welcomed on September 18 a delegation from the Japanese Industrial Cyber Security Center of Excellence (ISCCoE), funded by the Information-technology Promotion Agency (IPA).
The delegation discovered SystemX's activities in the field of cybersecurity conducted within two research programs, namely "Internet of Trust" and "Autonomous Transport". More specifically, a focus on intelligent transports security, Industrial Internet of Things (IIoT) and the CHESS (Cybersecurity Hardening Environment for Systems of Systems) platform was made throughout presentations and demonstrations.
Testimonials from guests and hosts of the visit vouch the success of the event.
'This Japanese delegation visit provides us an ideal opportunity to present our cybersecurity. It is also a privileged opportunity for direct interactions with Japanese academic and industrial experts in this field and to identify their priority challenges. Finally, this visit demonstrates the quality of the partnership between IRT SystemX and Institut Mines-Télécom as cybersecurity key players in the Île-de-France area', Gilles Desoblin, Research director of "Internet of Trust" research program at IRT SystemX.
'As a professor at Institut Mines-Télécom, I consider SystemX as an essential actor in the Île-de-France area ecosystem in cybersecurity. I am particularly impressed by SystemX ability to boost technological transfer. In fact, SystemX expertise on innovative topics and its project-based approach enable it to develop concrete demonstrators', Joaquin Garcia-Alfaro, Professor, Télécom SudParis/Institut Mines-Télécom.
'As a researcher in a Japanese electric company, SystemX represents for me a creative and smart environment. During this visit, I learned a lot in the field of cybersecurity for smart grids and blockchain technologies", Hiroyuki Hasegawa, Chubu Electric Power Co., Inc.
'It's the third time I visit SystemX, a very innovative institute. At each visit, I was impressed by the high evolution pace and diversity of the research activities and demos carried out within SystemX. I'm looking forward to be part of next visit!", Daisuke Miyamoto, Associate Professor, Graduate School of Information Science Laboratory for Cyber Resilience.
Relive the event in images
Read more about ISCCoE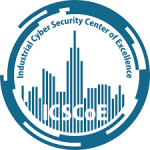 IPA's Industrial Cyber Security Center of Excellence (ICSCoE) established on April 1, 2017 develops human resources, organizations, systems and technology to counteract cybersecurity risks toward social infrastructure and the industrial base through providing practice using mock plants, practical experience on combating attacks, and investigating and analyzing the latest information on cyberattacks.