Last March 12th, the IRT SystemX organized for the second time its annual Future@SystemX event. This new edition was met with great success as nearly 450 participants attended.
Louis Schweitzer as guest of honor
The Institute had the pleasure to welcome Louis Schweitzer, General Commissioner for Investment, for this special day. Indeed, the latter accepted SystemX's invitation and opened the plenary session. In his speech, he emphasized the importance of organizing such an event for it is a great way to communicate on undertaken actions and demonstrates the added value of the IRT SystemX. He congratulated the IRT for the quality of the ecosystem it has brought together by bringing together academic and industrial research actors.
"I do not worry for the IRT SystemX as it has all the ingredients for success. It relies in particular on the Saclay ecosystem that is unique in France. »
He was then able to discover the research results of 3 SystemX research projects:
Earlier in the morning, he also had the opportunity to meet with representatives of the IRT's Club of Industrial Partners.
Two keynote speeches on systems and digital engineering
The plenary session continued with contributions from Patrick Godfrey, University of Bristol, Member of the Scientific and Technological Council of the IRT SystemX who gave his talk on "systems thinking"; and Gérard Berry, Professor at the Collège de France and CNRS gold medal 2014, who made a presentation on "How to have our smart ideas carried out by our stupid computers?
For more information…
An event at the heart of digital systems engineering
This year, the Institute proposed to dive into the heart of digital engineering of complex systems. Through the 5 courses offered – resilient, adaptable, interoperable, autonomous and ergonomic – visitors could manipulate 21 demos prepared by IRT SystemX teams. They were able, for example, to get behind the wheel of a driving simulator, to try to become an expert in optimization, and even to manipulate data in social networks.
Download
Consult the description of all the demos presented at the event: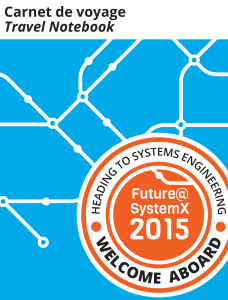 See also…
The event in images