On 1 July, the members of the 
Confiance.ai
 collective, supported and coordinated by IRT 
SystemX
, met to highlight the industrial issues and scientific challenges at the core of this 
programme.
The event, which was attended by over 300 participants, included the participation of Jean-Baptiste Djebbari, Minister Delegate to the Minister for Ecological Transition, in charge of Transport, Energy and Environment Cédric O, Secretary of State for Digital Transition and Electronic Communications, and Géraldine Leveau, Deputy Secretary General for Investment. 
Confiance.ai is the technological pillar of the Great Challenge "Securing, certifying and making reliable systems based on artificial intelligence" launched by the French government. It is the largest technological research programme in the #AIforHumanity plan, which aims to make France one of the leading countries in artificial intelligence (AI). Its mission is to design and industrialise systems based on trusted artificial intelligence.  
The Confiance.ai programme brings together a collective of major French academic and industrial partners: Air Liquide, Airbus, Atos, CEA, Inria, Naval Group, Renault, Safran, IRT Saint Exupéry, Sopra Steria, IRT SystemX, Thales and Valeo.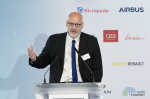 During the event, Michel Morvan, President of IRT SystemX, emphasised the role of the institute in this programme, in which we find the major markers of the institute: the importance of the collective, the multi-field and multi-discplinary dimensions, the desire to create bridges between academics and industry. According to him, it is the "diversity of skills and talents that will make Confiance.ai a success", and it is thanks to the cooperation between industrial actors, academics and start-ups that Confiance.ai will be able to make France the world champion of AI. 
Further insight into the Institute's role in the Confiance.ai programme and the resolution of its scientific challenges can be gained by watching the video presentation by Paul Labrogère, Director General of IRT SystemX. 
To go further :