TOP – Topology Optimization Platform
Project description
Developping high-performance digital methods and tools for the optimal design of complex parts and systems.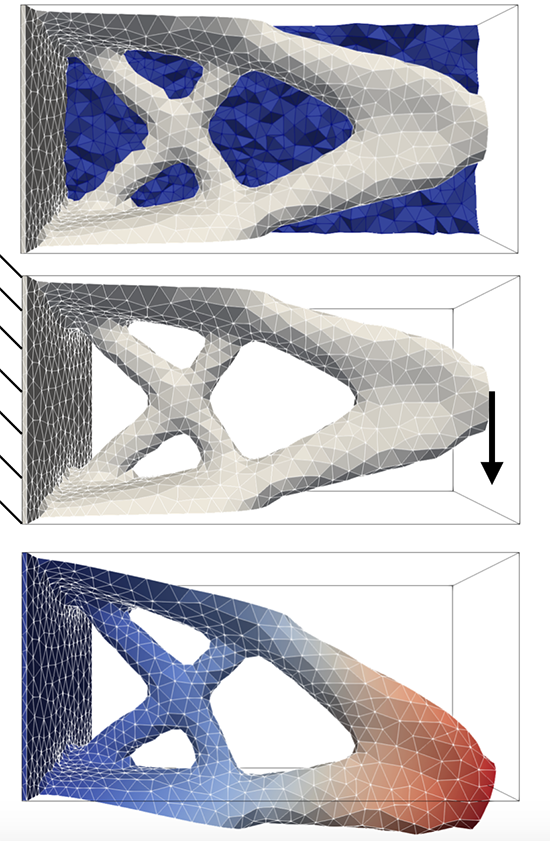 The topological optimization aims to generate a mechanical part that is as efficient as possible and in accordance with the specifications set by the user, by directly calculating the distribution of the material within a given volume. The simplicity of its implementation and its ability to offer breakthrough concepts make it particularly attractive for industrial users. However, the solutions available on the market remain unsatisfactory for the creation of complex systems that would meet demanding specifications (e.g. oil sump, engine block, etc.).
Launched in May 2017 for a period of four years, the TOP project aims to develop powerful and robust digital design tools based on the Levetl Set method. This alternative allows for a more rigorous physical modeling, the taking into account of manufacturing constraints formulated in geometric form and a clear definition of the optimal part.
Expected results
Overcoming technological barriers in the design of complex structures
Provide industrial research departments with innovative topological optimization tools
Demonstrate the industrial reliability of these tools on case studies proposed by the industrial partners.
Implemented skills
| | |
| --- | --- |
| | Scientific computing |
| | Optimization |
Targeted markets
Automotive
Aeronautics
Aerospace
- Chercher un projet
- Search a project