Daniel Krob, Technological and scientific Director of 'IRT SystemX, ran a Seminar@Systemx on September, 23th, about architecture of complex systems.
Summary [in French]
Nous présenterons les motivations et les fondements de l'ingénierie système dirigée par les modèles en faisant un focus sur l'organisation des modèles d'analyse systémique et les processus d'architecture système permettant de construire ces modèles. Des études de cas et des exemples d'application illustreront la démarche présentée.
Biography [in French]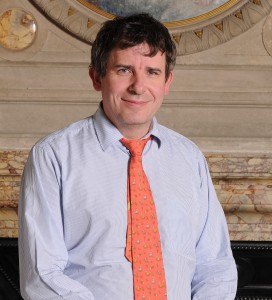 Ancien normalien, agrégé de mathématiques, docteur et habilité à diriger des recherches en informatique, Daniel Krob, 53 ans, prend la direction scientifique & technologique de l'IRT SystemX. Il est également Professeur de l'Ecole Polytechnique, en informatique et Président du Centre d'Excellence Sur l'Architecture, le Management et l'Economie des Systèmes (CESAMES). Expert de stature internationale dans de nombreux domaines scientifiques, il est l'auteur d'une centaine de publications et de communications scientifiques, de 4 livres et de 3 brevets en informatique fondamentale, combinatoire algébrique et énumérative, algorithmique des télécommunications mobiles et ingénierie système. Il a également piloté de 2003 à 2014 la chaire Dassault Aviation – DCNS – DGA – Thales « Ingénierie des systèmes complexes » de l'Ecole Polytechnique et s'est spécialisé dans le domaine de l'architecture, de la modélisation et des méthodes de conception des systèmes complexes. En février 2014, il est notamment devenu Fellow de l'INCOSE (International Council on Systems Engineering), une reconnaissance attribuée aux chercheurs ou aux professionnels dont la contribution à la théorie ou la pratique de l'ingénierie des systèmes complexes est particulièrement significative au niveau mondial. Il est le seul Français à en être distingué, une reconnaissance partagée avec seulement 66 experts du monde entier.
Go further