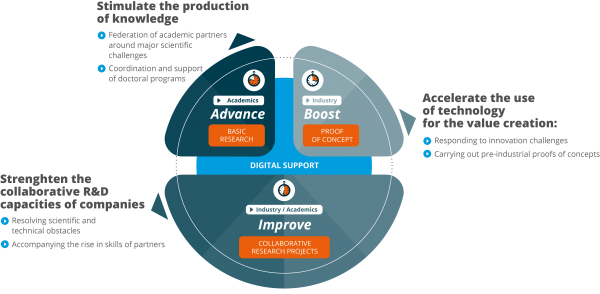 Boost
The Boost offer consists of supporting an industrial partner for a short time, wishing to test technological solutions for a specific use case and to understand their interest in its business lines. This agile service makes it possible to realize within a few months a Proof of Concept (POC) from bricks "on shelf" or pre-existing within the IRT.
Improve
The Improve offer to consolidate innovation ecosystems through the conduct of collaborative R&D projects aimed at removing scientific and technological barriers. These projects, lasting from 2 to 5 years, bring together employees from large groups, SMEs, SystemX research engineers and academic players to place scientific excellence at the service of industrial challenges.
Advance
The Advance offer aims to unite the skills and excellence of academic partners around major scientific challenges, through joint research initiatives, industrial chairs or doctoral programs. This offer stimulates the production of knowledge in a given technological field (e.g. the BART academic research collective dedicated to the Blockchain launched in 2018).