Adlen Ksentini (Professeur, EURECOM) a animé un Seminar@SystemX en webinaire sur le thème «Optimal MEC resources dimensioning for vehicle collision avoidance system: A deep Learning Approach», le 8 juillet 2021 de 14h à 15h30.
Résumé (en anglais) :
Collision detection and avoidance between vehicles is one of the key services envisioned in the Internet of Vehicles (IoV). Such services are usually deployed at the Multi-access Edge Computing (MEC) to ensure low latency communication and thus guarantee real-time reactions to avoid collisions between vehicles. In order to maximize the coverage of the road and ensure that all vehicles are connected to an optimal MEC host (in terms of geographical location), the collision avoidance application needs to be instantiated on all the MEC hosts. This may add a burden on the computing resources available at the latter. In this talk, I will introduce an AI-empowered framework that aims to optimize the computing resources at the MEC hosts in the context of IoV. The proposed framework uses deep learning to (1) predict the vehicle density to be served by a MEC host and (2) derive the exact computing resources required by the collision detection application to run optimally.
Biographie (en anglais) :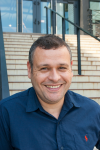 Adlen Ksentini is a COMSOC distinguished lecturer. He obtained his Ph.D. degree in computer science from the University of Cergy-Pontoise in 2005, with a dissertation on QoS provisioning in IEEE 802.11-based networks. From 2006 to 2016, he worked at the University of Rennes 1 as an assistant professor. During this period, he was a member of the INRIA Dionysos Team, Rennes. Since March 2016, he has been working as a professor in the Communication Systems Department of EURECOM.
Adlen Ksentini research interests are on Network Sofwerization and Network Cloudification focusing on topics related to: network virtualization, Software Defined Networking (SDN), Edge Computing, Network slicing for 5G and beyond networks. He is interested on both system and architectural issues, but also on algorithms problems related to those topics, using Markov Chains, Optimization algorithms and Machine Learning (ML). He is involved in several European projects in regards to network softwerization for 5G and beyond network, such as H2020 5GPPP 5G!Pagoda, 5GTransformer, 5G!Drones and MonB5G and national projects such as ANR Chistera LeadingEdge and CIT Indid. He is also involved in industrial collaborations with Orange and Nokia.
Adlen Ksentini has co-authored over 150 technical journal and international conference papers. He received the best paper award from IEEE IWCMC 2016, IEEE ICC 2012, and ACM MSWiM 2005. He has been awarded the 2017 IEEE Comsoc Fred W. Ellersick (best IEEE communications Magazine's paper). Adlen Ksentini has given several tutorials in IEEE international conferences, IEEE Globecom 2015, IEEEE CCNC 2017, IEEE ICC 2017, IEEE/IFIP IM 2017.
Replay :